Kjel­Digester K-446 / K-449
More samples per day
The KjelDigester K-446 / K-449 reduces the block digestion process by up to 2 hours and meets the highest safety requirements. The high degree of automation is the perfect match to the KjelMaster System allowing more samples per day to be processed.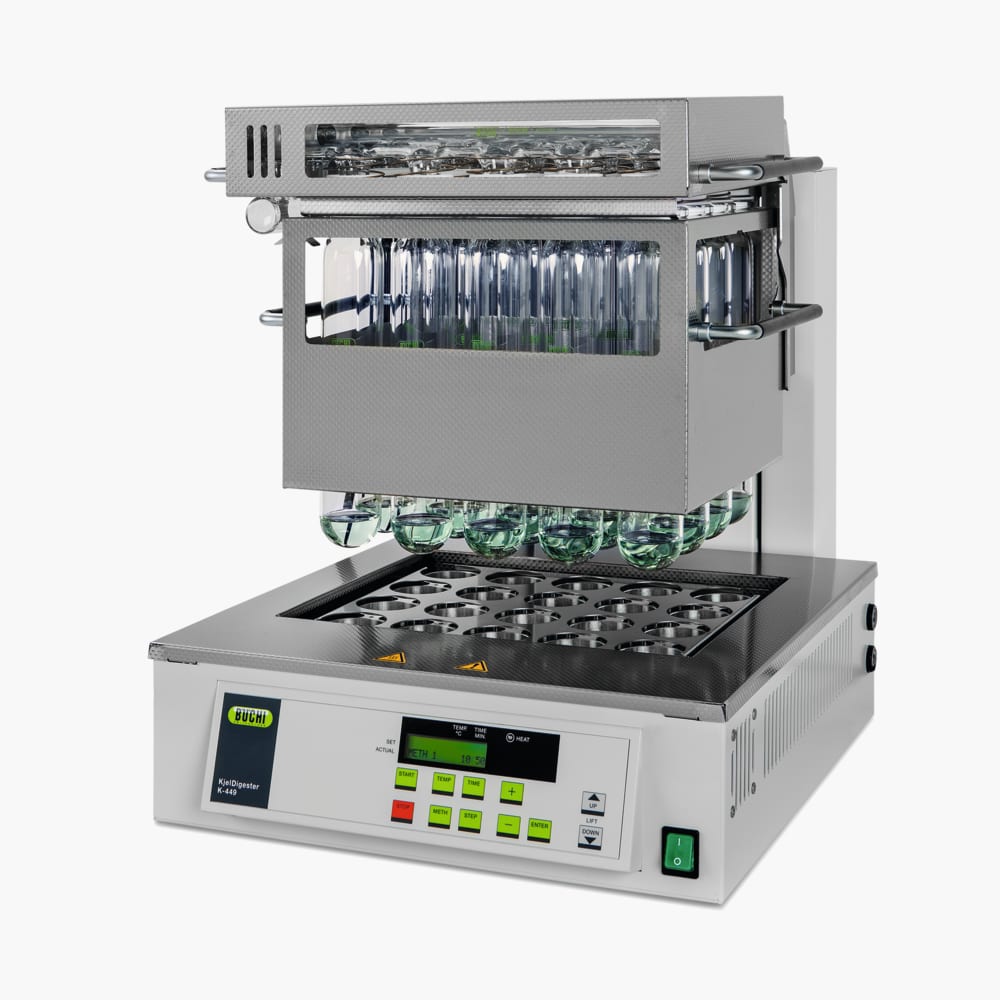 Unprecedented sample throughput of up to 120 samples per working day thanks to the fast heating and accelerated digestion.

Directly transfer the complete rack containing all sample tubes to the KjelSampler K-376 or K-377.

Individual sealing of each sample tube allows effective transfer of acid fumes to the Scrubber K-415 and gives maximum protection to the operator and the environment.

Safe and convenient operation with the automatic sample lift. Fully unattended digestion process through the programming of methods.

Reach even the lowest nitrogen levels with genuine BUCHI Sample Tubes. They have a wide diameter, constricted condensation zone, thick glass walls and can contain bigger volumes.

The suction module with two handles and magnetic connections guarantees a strong and secure hold. Store the drip tray in the holder during a digestion run.
Compare the KjelDigester K-446 / K-449
KjelDigester K-449

:

Yes

:

Yes

:

Yes

:

Optional

:

30 - 450 °C

KjelDigester K-446

Automatic lift

:

No

Temperature programs

:

No

Scrubber Control

:

No

Condensate trap for liquid samples

:

Optional

Temperature control range

:

30 - 450 °C
The KjelDigester helps us to get results faster and it is the ideal companion to our automated Kjeldahl system. The reliability of these instruments is essential for our service laboratory, thus we really appreciate the great support from the BUCHI service team.

Mrs. Barbara Vogel, Nutrient Analysis, Laboratory Manager - UFAG Laboratorien AG, Switzerland
Applications
From milling to analysis
For more than 50 years BUCHI has been developing outstanding solutions for the determination of Kjeldahl nitrogen and steam-volatile analytes. It is our utmost ambition to understand and meet your personal demands. Our solutions include innovative products for the entire process workflow, bespoke application support, sophisticated data management and professional maintenance. Thousands of satisfied customers all over the world in quality control and R&D laboratories enjoy our comprehensive approach.
Food

Protein, Non-Protein Nitrogen (NPN)

Environmental Analysis

Total Kjeldahl Nitrogen (TKN), phosphate