Rotavapor® R-250 Pro
Best performance at the highest safety
If you want to reach the best performance in industrial distillation and ensure the highest user safety, your solution is the Rotavapor® R-250 Pro. Benefit from optimized distillation rate, intuitive operation, and exceptional product durability.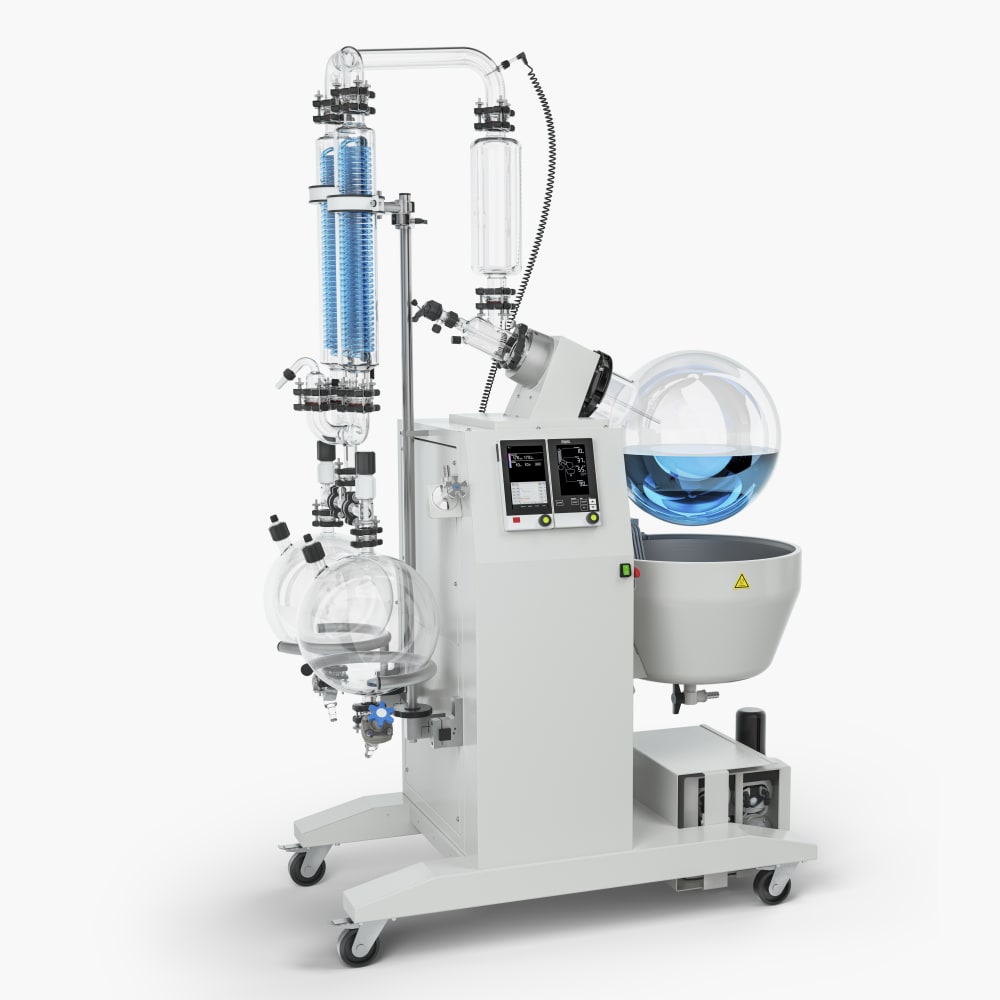 Premium quality materials are used for the robust design of the Rotavapor R-250 Pro. You can work under harsh production conditions without compromising the long lifetime of the product.

The intuitive interface allows you to have access to all process parameters with a comprehensive overview of settings, current readings, and progression graph.

If you require automation, our sensor technologies with foam, level and cooling temperature sensors will allow you to have unattended distillation. Remote monitoring and control is made possible with our OpenInterface and BUCHI Cloud Services.

Our robust design and the safety features, such as plastic coated glass (P+G), over-temperature protection, over-pressure release, bath overflow drain and spring-supported valves, ensure maximal safety.

Program your customized standard operating procedures (SOPs) on the Interface I-300 Pro for convenient user guidance through the process.
Rotary evaporator is a basic requirement of any chemistry laboratory. The name BUCHI is synonymous with this application mainly because of their quality product and ruggedness of these equipments. Various models are available for special applications/requirements. These are very useful not only in laboratory but also in production activity particularly on pilot scale/ kilo lab scale

K. S. Bhide - AstraZeneca Pharma India Ltd.
Applications
Benefit from decades of expert knowledge
In 1957 BUCHI introduced the first commercial rotary evaporator. With our technological expertise and profound customer interaction, we have continuously developed the Rotavapor® to an ever smarter and fully integrated system. Our carefully conceived solutions meet the needs of a wide range of industries, whether you operate in R&D or production.
Chemical

In the chemical industry a wide range of applications can be performed with an industrial Rotavapor®: Concentration, Drying, Solvent Recycling.

Pharmaceutical

The pharmaceutical industry has a need for an evaporation solution that covers a wide range of applications. The rotary evaporator is the best choice for gentle evaporation: Concentration, Drying, Re-crystallization, Synthesis.