Rotavapor® R-250 EX
EX-protection fulfilling highest safety levels
Safety comes first! Especially when it comes to the Rotavapor® R-250 EX! The EX-protection is designed to fulfill the harshest working environment needs. Experience the highest safety level of industrial distillation with a flask size of up to 50L.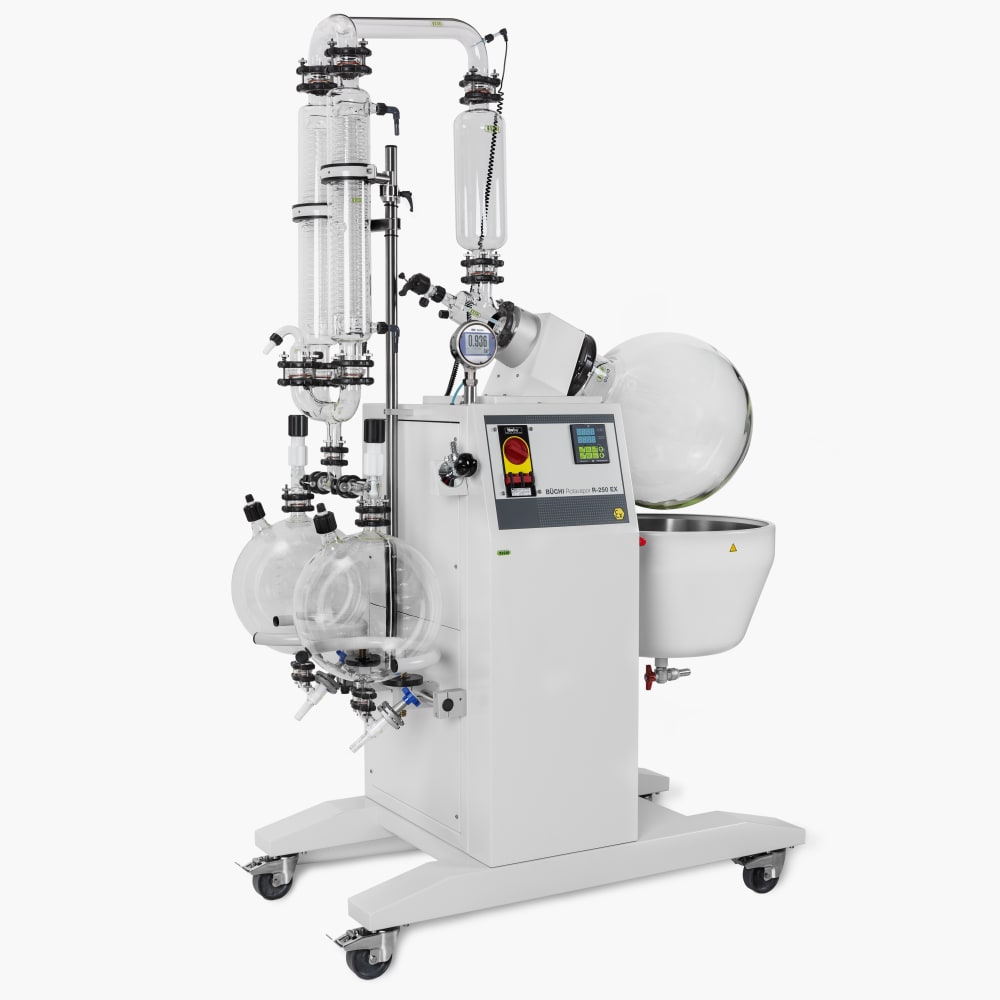 BUCHI offers a robust system to allow an easy and intensive use even under harsh conditions. Your Rotavapor® R-250 EX long lifetime is ensured thanks to smart system design.

Easily find the optimal setup for your application thanks to a broad variety of glass assemblies offered by BUCHI.

With an easy and intuitive control panel, BUCHI ensures your fast and easy system operation. By adding a flask handler to your configuration, you avoid the hassle and difficulties of handling your 50 L evaporating flask.

BUCHI uses inert material with superior quality to gurantee the quality of your results.

The ethanol distillation rate with the rotary evaporator R-250 EX can reach up to 19 L per hour.

The Rotavapor® EX certification complies with current stringent regulations. BUCHI has a close collaboration with experts in the field in order to offer the best and safest solutions.
Applications
Benefit from decades of expert knowledge
In 1957 BUCHI introduced the first commercial rotary evaporator. With our technological expertise and profound customer interaction, we have continuously developed the Rotavapor® to an ever smarter and fully integrated system. Our carefully conceived solutions meet the needs of a wide range of industries, whether you operate in R&D or production.
Chemical

In the chemical industry a wide range of applications can be performed with an industrial Rotavapor®: Concentration, Drying, Solvent Recycling.

Pharmaceutical

The pharmaceutical industry has a need for an evaporation solution that covers a wide range of applications. The rotary evaporator is the best choice for gentle evaporation: Concentration, Drying, Re-crystallization, Synthesis.