Interface I-300 / I-300 Pro
Central control of all process parameters
The Interface I-300 / I-300 Pro is the central control of all process parameters of a Rotavapor® R-300 system. Make your rotary evaporation more efficient, convenient and customized by using distinct operating modes, from automatic to manual.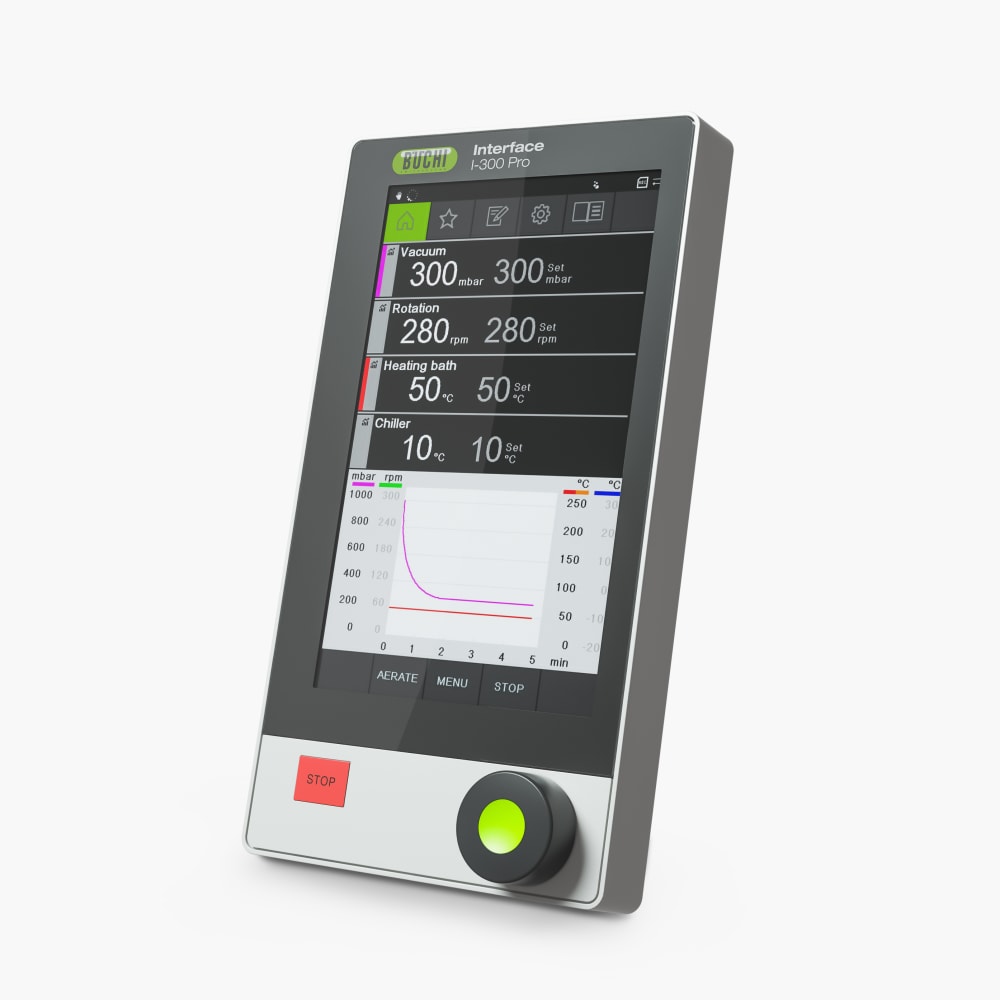 Convenient and user-friendly navigation knob, four function keys for quick access and overall stop.

The distillation process starts directly after choosing the solvent from the library. The vacuum is dynamically adjusted while chiller and bath reach their set temperature.

Preferred solvents, leak test and other functions can be saved as favorites for quick access.

The drying mode alternates rotation direction in user-defined intervals over a set time period to enhance drying solids.

All process parameters are graphically displayed to facilitate the supervision of the distillation.

The BUCHI Monitor App for iOS, Android and Windows offers live view and charting of all process parameters and includes push notifications.
Compare the Interface I-300 / I-300 Pro
Interface I-300 Pro

Display

:

LCD, 7.0 in

Installation

:

On Rotavapor R-300, Vacuum pump V-300 or house vacuum

Method programing

:

Yes

Solvent library

:

Yes

Dynamic distillation

:

Yes

Eco mode

:

Yes

Foam sensor possibility

:

Yes

Interface I-300

Display

:

LCD, 4.3 in

Installation

:

On Rotavapor R-300, Vacuum pump V-300 or house vacuum

Method programing

:

No

Solvent library

:

Yes

Dynamic distillation

:

Yes

Eco mode

:

Yes

Foam sensor possibility

:

Yes

Interface I-100

Display

:

Digital, monochrome, 4.0 in

Installation

:

On Vacuum pump V-100 or house vacuum

Method programing

:

No

Solvent library

:

No

Dynamic distillation

:

No

Eco mode

:

No

Foam sensor possibility

:

No