2022年04月07日
BUCHI wins Swiss Export Award 2022
Today at the Swiss International Trade Forum at KKL Lucerne, Switzerland Global Enterprise (S-GE) presented this year's Export Award to BÜCHI Labortechnik AG. The company impressed the jury with its international go-to-market strategy and beat Altoo and GWF MessSysteme to claim top spot. As winner, BUCHI will bear the S-GE "Export Award" label for a year.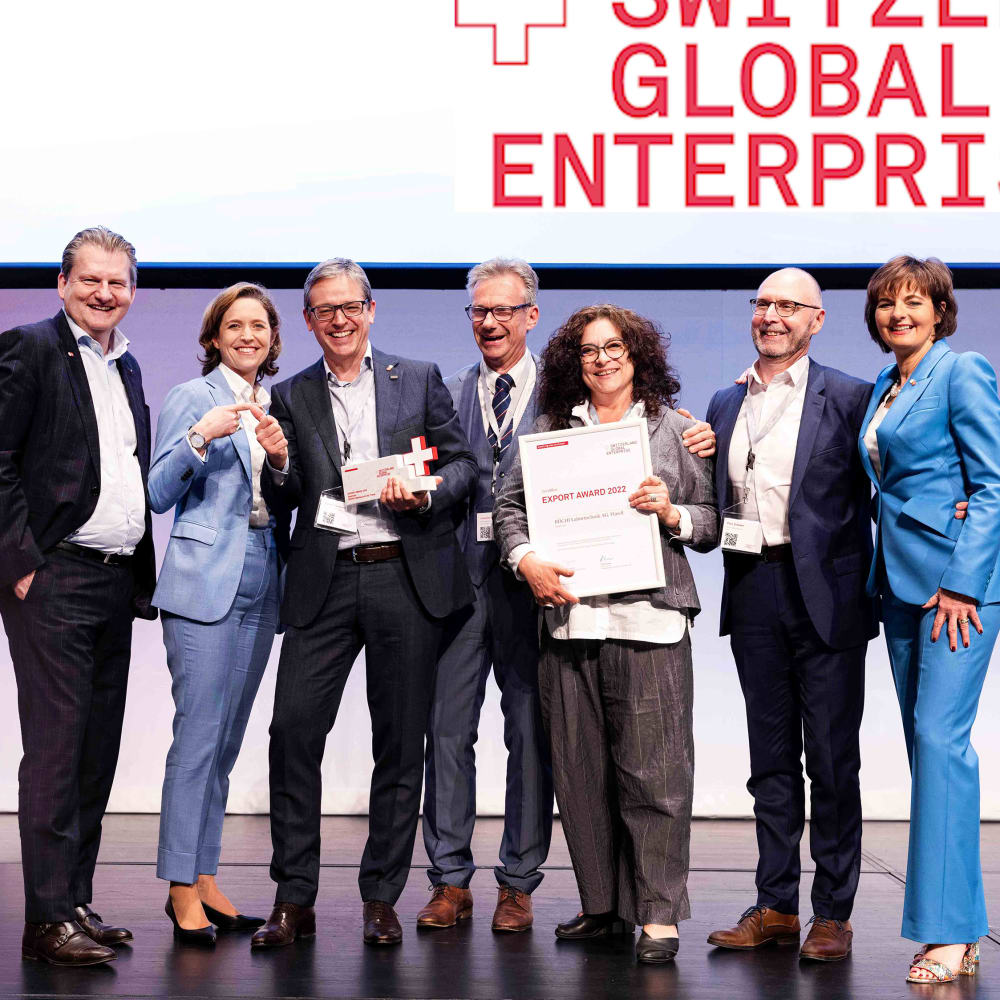 Technology company BÜCHI Labortechnik AG, a provider of high-quality laboratory and process solutions, came out on top against Altoo (wealth platform) and GWF MessSysteme (complete resource management solutions) at this year's Export Award event organized by Switzerland Global Enterprise, an organization promoting Swiss exports and Switzerland as a business location. "BÜCHI Labortechnik AG impressed the jury with its crystal-clear market development strategy," explained jury president, Ralph Siegl, on the reasons for its decision. "Thanks to its consistent and graduated organizational development, BUCHI is able to provide the necessary competencies in its international target markets when required in order to realize its potential."
Navigating a successful course through the pandemic
With 20 market organizations and numerous distribution partners on all continents, BUCHI generates 97% of its sales abroad. The success factors of BUCHI's export strategy include the "Swiss Made" quality label, a high quality standard for instruments and services, a clear focus on core competencies in technologies and applications, and regional marketing with direct customer contact and on-site customer support. "We are proud to be taking this year's Export Award home," said Roger Baumann, CEO of BÜCHI Labortechnik. "Last year, our business was heavily affected by travel restrictions, supply and logistics bottlenecks, and trade conflicts as a result of the pandemic. We see the award as recognition of our flexibility, and our ability to continue to act in a targeted manner during these turbulent times, but above all as testament to the strong performance of our workforce in international business."
Core competencies in technologies and applications
This year's award was presented live again, in front of a large audience, under the leadership of Ruth Metzler-Arnold, Chair of the Board of Directors of S-GE and former member of the Swiss Federal Council. Forming part of the sold-out International Trade Forum on the topic of "Mastering complexity – taking off internationally", Roger Baumann elaborated on BUCHI's recipe for success during the award ceremony: "What started as an artisan business over 80 years ago has grown into a global glass, mechatronics, and technology company. We have a high level of expertise in our relevant technologies and applications. This is why our specialists around the world actively help our customers find the perfect solution for their application in research and development, quality assurance, or production. In order to leverage this in-depth knowledge, we are systematically building up our own market organizations to deliver on our promise of quality."
Media Relations:
Sigrun Waehner
Head of Corporate Communications
E-Mail: waehner.s@buchi.com
+41 79 823 31 84