Recirculating Chiller F-305 / F-308 / F-314
The efficient way of cooling
The Recirculating Chillers F-305 / F-308 / F-314 are specifically designed to work with laboratory equipment such as rotary evaporators, parallel evaporators, Kjeldahl, and extraction products. You benefit from convenient central temperature setting, energy-saving ECO-mode, and automatic start/stop when used in conjunction with the Rotavapor® R-300 system.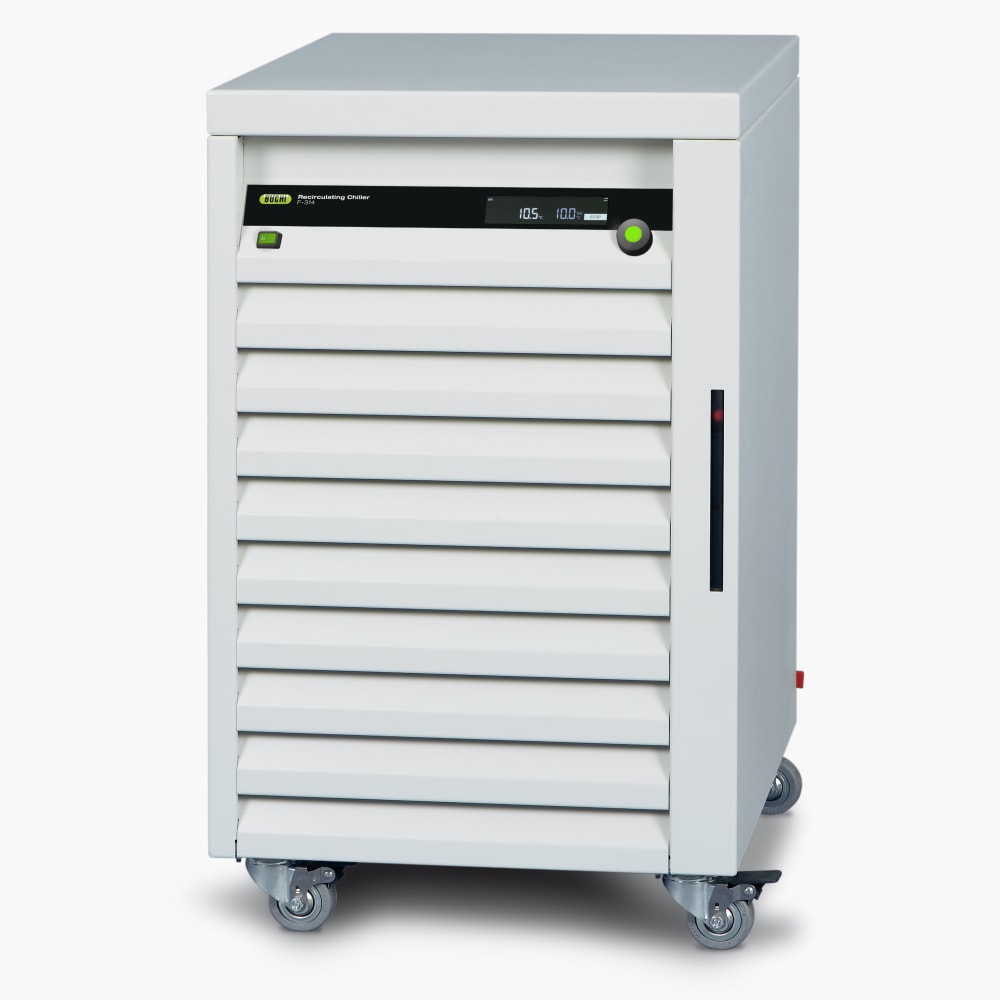 Convenient temperature setting and control when integrated in a Rotavapor® R-300 system.

The ECO-mode in conjunction with the interface saves energy and reduces heat emission by switching into a stand-by mode when not in use.

Operating with a Rotavapor® R-300 system, the vacuum is automatically adjusted to the heating and cooling temperature, maximizing the distillation performance.

Conveniently set the cooling temperature directly on the chiller or on the central Interface I-300 / I-300 Pro.

The chiller consists of a circuit system with a closed loop so that the same coolant is used all the time to eliminate waste, improve sustainability and increase cost-efficiency.
Compare the Recirculating Chiller F-305 / F-308 / F-314
Recirculating Chiller F-314

Cooling capacity at 0 °C

:

720 W

Cooling capacity at 10 °C

:

1150 W

Cooling capacity at 15 °C

:

1400 W

Temperature range

:

-10 to +25 °C

Tank volume

:

6.5 l

Heating emission

:

2100 W

Chiller height

:

660 mm

Chiller width

:

400 mm

Chiller depth

:

500 mm

Recirculating Chiller F-308

Cooling capacity at 0 °C

:

450 W

Cooling capacity at 10 °C

:

730 W

Cooling capacity at 15 °C

:

900 W

Temperature range

:

-10 to +25 °C

Tank volume

:

4.5 l

Heating emission

:

1400 W

Chiller height

:

580 mm

Chiller width

:

400 mm

Chiller depth

:

500 mm

Recirculating Chiller F-305

Cooling capacity at 0 °C

:

250 W

Cooling capacity at 10 °C

:

440 W

Cooling capacity at 15 °C

:

550 W

Temperature range

:

-10 to +25 °C

Tank volume

:

3 l

Heating emission

:

750 W

Chiller height

:

400 mm

Chiller width

:

280 mm

Chiller depth

:

500 mm

Recirculating Chiller F-100

Cooling capacity at 0 °C

:

Cooling capacity at 10 °C

:

300 W

Cooling capacity at 15 °C

:

Temperature range

:

fix at +10 °C

Tank volume

:

3 l

Heating emission

:

700 W

Chiller height

:

500 mm

Chiller width

:

280 mm

Chiller depth

:

420 mm

Recirculating Chiller F-105

Cooling capacity at 0 °C

:

120 W

Cooling capacity at 10 °C

:

390 W

Cooling capacity at 15 °C

:

530 W

Temperature range

:

-10 to +25 °C

Tank volume

:

3 l

Heating emission

:

700 W

Chiller height

:

500 mm

Chiller width

:

280 mm

Chiller depth

:

420 mm