NIRMaster™ Essential
FT-NIR top performance
Rapidly, accurately and reproducibly control the quality and nutritional facts of your feed and food samples. The NIRMaster™ offers FT-NIR top performance as the world's only standalone spectrometer available in food-grade PMMA or stainless steel.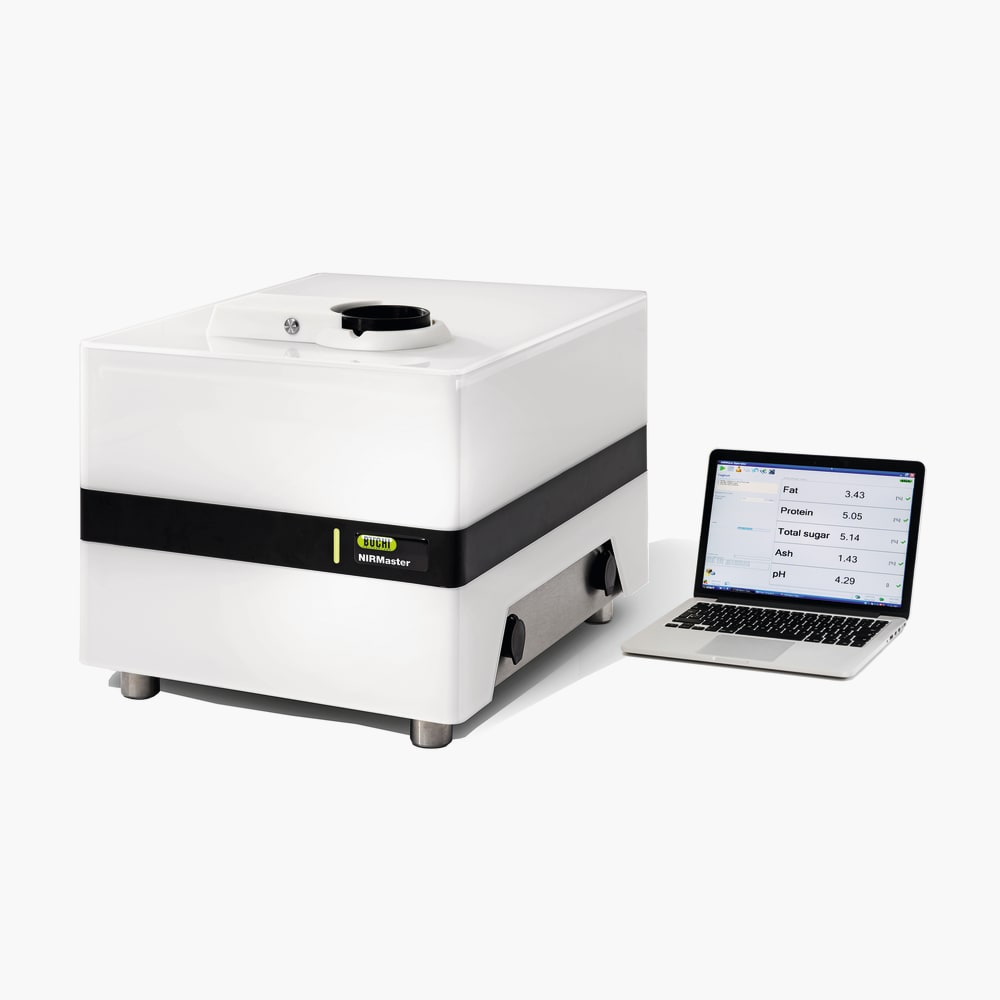 The hygienic easy-clean design and high ingress protection (IP) support your routine work in harsh environments. The NIRMaster™ Essential is available in food-grade PMMA housing or stainless steel housing with IP54 or IP65.

By using crystals with a very high refractive index, we have successfully adapted the quartz polarization interferometer. This approach makes your compact FT-IR spectrometer resistant to mechanical disturbances to offer you optimal resolution. Specifically, the FT-NIR top performance of NIRMaster in rough environments is due to the difference of spatial movements and the optical path shifts for the two light beams in a birefringent crystal of variable thickness. Mechanical distortions that dirrecly affect interefence are reduced by a factor fo 10 to 20 in a crystal interferometer compared to a Michelson type interferometer.

We have set a new standard regarding continuous use of your NIR spectrometer. Our NIRMaster™ Essential is designed with a twin lamp module. In the event of a disfunction of the primary source, the system automatically swtiches to a second integrated lamp. This back-up lamp lowers the risk of instrument failure and gives you enough time to order a replacement lamp. You can also continue your measurements uninterrupted for a flawless workflow.
Compare the NIRMaster™ Essential
NIRMaster™ Essential

System protection

:

No

Housing material

:

No

Embedded PC

:

-
"We can get the fast and accurate results because of the unit. The operational procedure is very easy and there is no waster."

Orion Food Co. Ltd., Korea - Miao Yueyuan, Operator of the NIRMaster
"The BUCHI NIRMaster helps to produce high quality pasta, controlling raw material in real time, saving money, time and the environment."

Anonymous - Pasta Producer Italy
"The BUCHI NIRMaster has proved to be a great success, enabling us to have confidence and control over our routine QA testing. Over our whole business it has cut costs, whilst improving service levels."

Lloyd's Animal Feeds, Oswestry, Shropshire, UK - Dr Mark Malpass, Commercial Manager
Applications
Enhancing productivity and quality
We offer a broad spectrum of tailored NIRSolutions™ meeting the needs of your business from the analysis of common nutritional parameters in food production to quality control of pharmaceutical dosage forms.
Food and Beverage

Control dairy, meat, milling and other food products for moisture, macronutrients, ash and fiber, rheological properties.

Environmental Analysis

Customize accurate calibrations to measure: Moisture, organic carboon and total nitrogen content of soils, fertilizers formulation, biogas potential of biodegadable feedstock and urban waste.

Feed and Forage

Test raw materials, premixes and finished products for: moisture, fat, protein, ash and fiber, ADF and NDF, amino acids.